A Tool to Engage and Empower: GIS Story Maps
In a constantly evolving technology landscape, online tools have enabled organizations to increase public involvement in decision making that impacts communities and their environments. Recent advancements in geographic information systems (GIS) technology have provided opportunities to build the planning capacity of government agencies, better engage stakeholders, and empower informed decision making.
Using GIS to Tell a Story

to

Empower

Informed Decision Making
Interactive GIS story maps are ideal for fostering citizen engagement, as they can provide meaningful context to complex topics and concepts. A story map is a web application that is used to engage an audience through text, image, and video.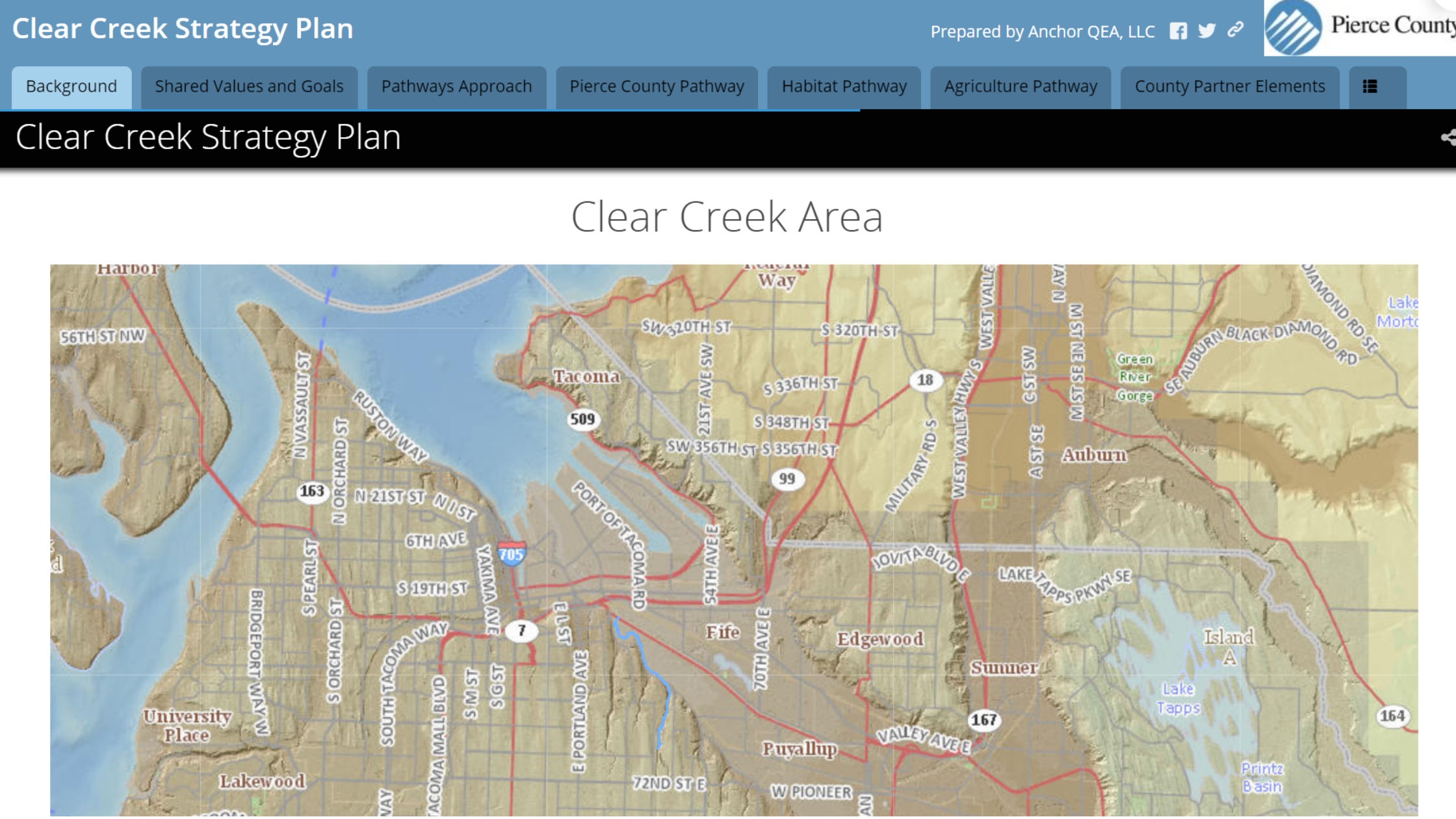 An

Anchor QEA

-d

eveloped

o

nline GIS

s

tory

m

ap for

Pierce

County, Washington

.

T

he story

map

is an important

outreach tool

for engaging the public

in a long-term

environmental

planning project.
Story maps provide geographic context for the story and broaden the reader's perspective by allowing them to interact directly with mapped data in the story. Story maps combine authoritative maps with multimedia content, making it easy to harness the power of geography and visualization to tell a story to empower informed decision making.
Benefits of GIS Story Maps
Geospatial technology offers many new ways to facilitate the planning process for a variety of project types. GIS has evolved in recent years, from a strictly proprietary environment (where only people with the right permissions could access it), to more open, web-based systems that allow a community to come together through public access to information, to learn, and to provide feedback.
GIS story maps are highly interactive, providing a dynamic platform that satisfies mandates for increased transparency, accountability, and public engagement in planning for sustainable places. Rather than having a static document on a shelf, a GIS story map is an online, living document that can be easily updated over time as physical environments change, project interests shift, or different funding becomes available. Story maps make it easy for people in the community to stay engaged with the planning efforts in the area, as GIS technology—once used only by technically skilled practitioners—has become more visual, interactive, and accessible to untrained GIS users. GIS story maps have quickly become acclaimed as an effective storytelling medium and outreach tool to engage the public.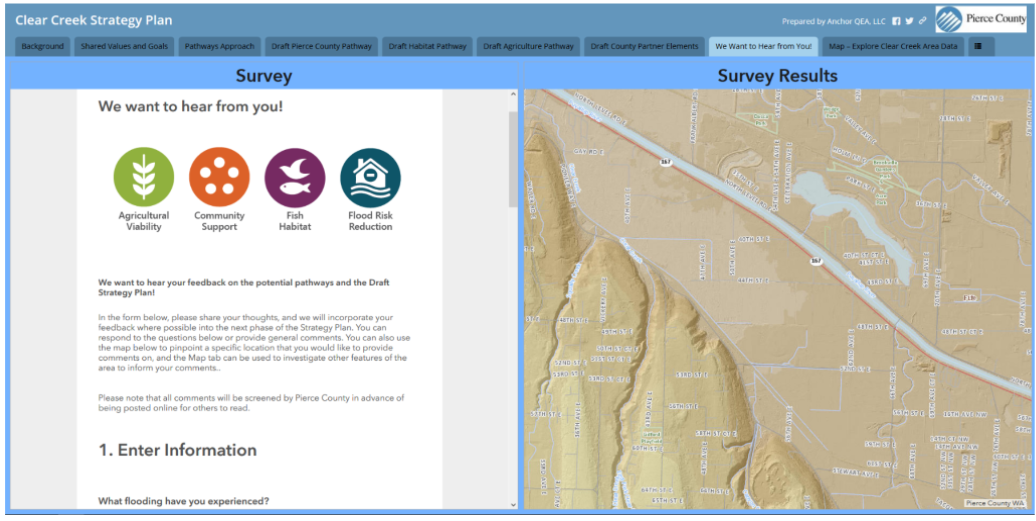 One

benefit of

using a story map

to present

information to the public

is

the

seamless incorporati

on of

receiving

feedback

, including the ability

for users

to add map locations for comments

.
This approach facilitates effective public engagement by creating a space where residents and stakeholders can come together to engage in a thoughtful discussion, and citizens are empowered to express their points of view. Implementing this kind of adaptive, online technology supports both the environment and communities much more effectively than a static approach.
Clear Creek

Strategic Plan

:

Interacting with the Community
Faced with significant flooding six times in the last 15 years, the community around Clear Creek in Pierce County, Washington, has struggled with damage to infrastructure, compromised safety for residents, and threats to the viability of agriculture in the area. The residents of Clear Creek cherish its rural character, as well as their farms, close-knit neighborhoods, and unique natural areas—while still having to confront overlapping problems with farm, fish habitat, and flood management issues.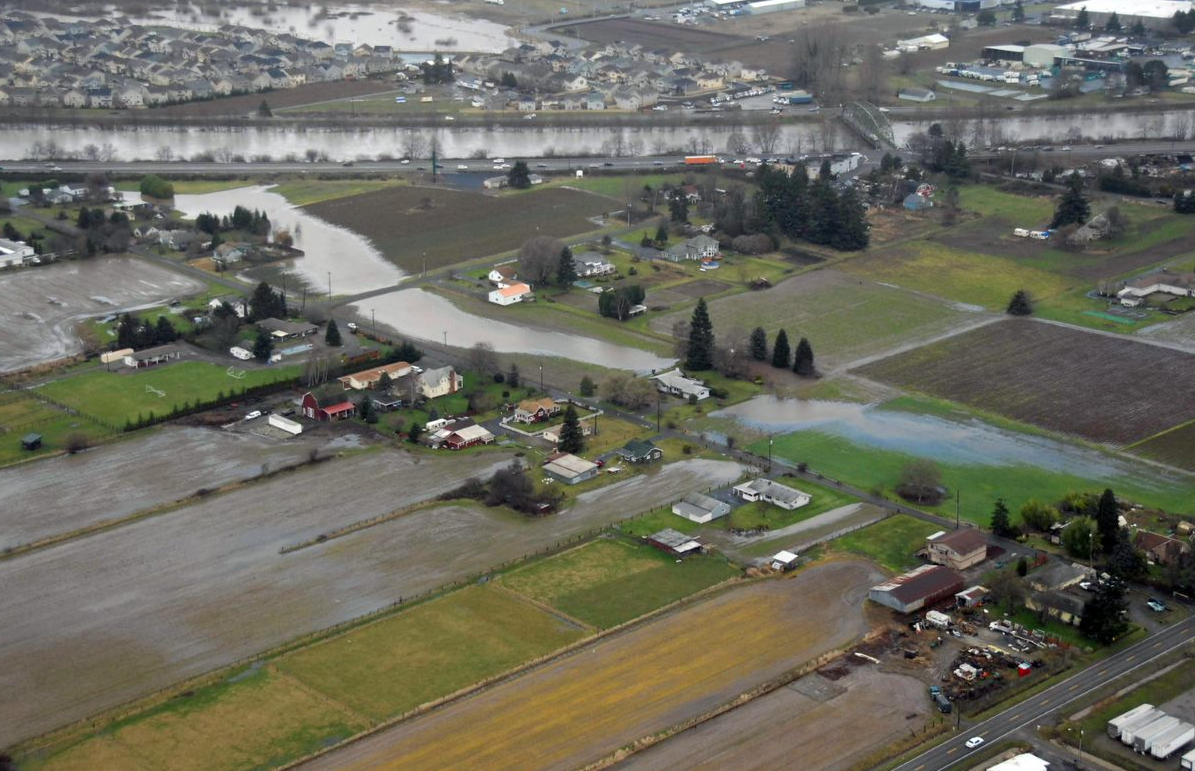 Addressing

f

looding of farms in the Clear Creek/Riverside area, located in the Lower Puyallup River watershed near Tacoma, Washington

,

is one of the

numerous

issues that

a

story map

Anchor QEA

created

inform

s

residents about

.
To better meet the needs of the Clear Creek community, Anchor QEA designed a Strategy Plan in a comprehensive, interactive, multimedia online story map for the plan. The Clear Creek story map was developed using GIS data from Pierce County and project–specific data, linking plan elements to location. The map provides public access to the Strategy Plan, allowing users to review available data in context.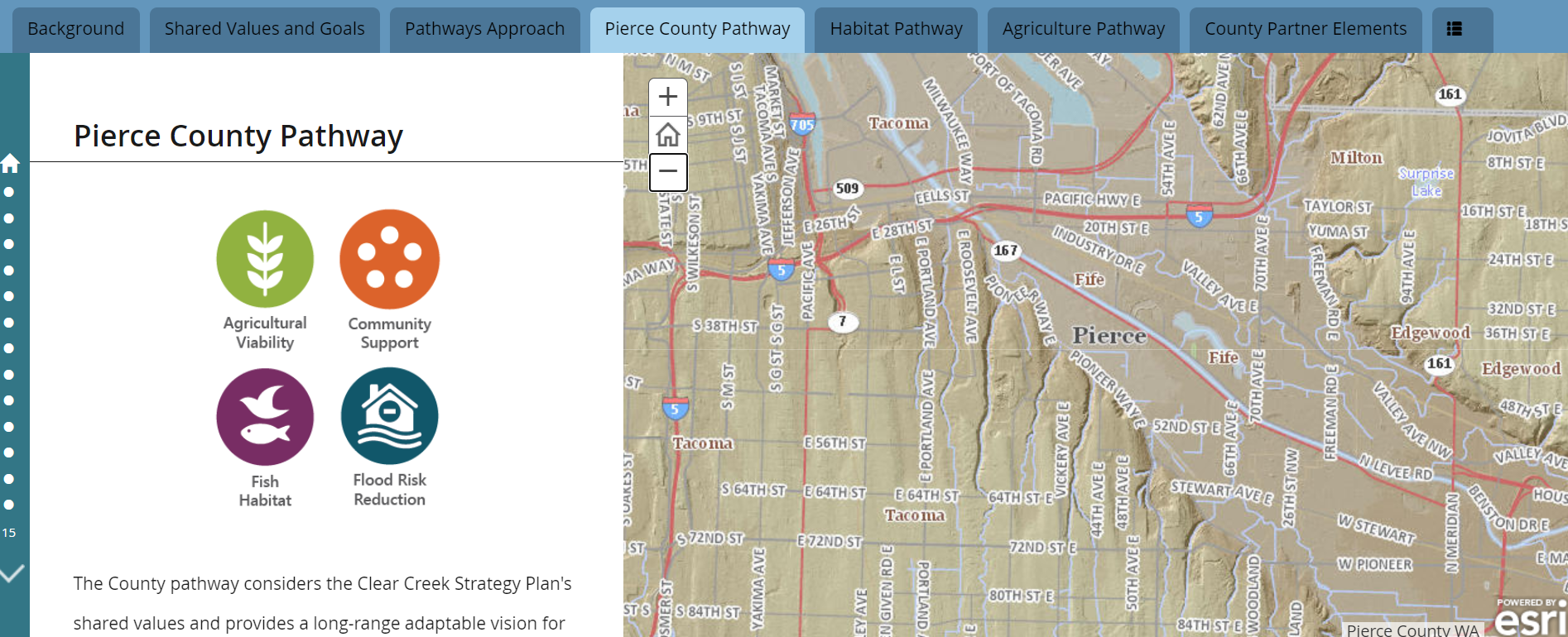 The purpose of the Strategy Plan is to improve a variety of conditions

in Pierce County, such as agriculture viability, community support, fish habitat, and flood risk reduction.
The strengths of this adaptable, long-range plan lie in its multifaceted approach: it acknowledges change, uses "resilience thinking" (a method of resource management and planning of complex, dynamic environments), and focuses on values, possibilities, goals, and decision making. The "living" nature of adaptive strategy plans make them an extremely effective way to improve conditions related to flooding and drainage, agriculture and land use, social challenges, and fish habitat and ecosystem functions. Traditional master plans are often not able to adapt to these changes, whereas an innovative and interactive approach—one driven by resiliency, focused on multi-benefit solutions, and committed to transparency—tends to be much more successful. Presenting the Clear Creek project's strategy plan as a GIS story map allows the County to easily and transparently revise the plan as it evolves, and continues to present its many elements in an accessible medium to the public.
The proactive implementation of this plan as a story map has made it easy for Clear Creek community members to stay engaged with the efforts in the area. Implementing this kind of adaptive GIS application can better support both the environment and communities much more effectively than a static approach. Ultimately, online, interactive mapping tools such as GIS story maps are ideal for providing meaningful context to complex topics, empowering informed decision making, and fostering community engagement to create an environment in which everyone can work together to adapt to a rapidly changing world.