Maintaining Infrastructure, Improving Local Communities, and Protecting Environmental Resources
As a partner to state and local agencies across the United States, Anchor QEA applies a broad range of technical expertise to the specific needs of each locality we serve. We work with state and local agencies and municipalities to develop and maintain infrastructure, implement capital improvements, improve local communities, and protect environmental resources. We provide strategic planning during the conceptual development phase, permitting, national and state environmental document preparation, biological surveys, environmental compliance, engineering, and construction oversight services to governmental agencies throughout the United States.
We are experienced in providing complex project management including planning and managing large multidiscipline efforts, schedule and budget tracking, and coordinating delivery of design, permitting, and construction projects. We regularly assist with coordinating with regulatory agencies, tribes, and project stakeholders to address concerns and develop solutions.
Get in Touch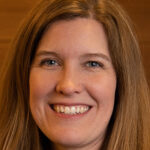 For inquiries about Anchor QEA's State/Local capabilities, please contact:
Kim Powell, Principal Engineer
State/Local Market Sector Lead
kpowell@anchorqea.com |