Decommissioning, Decontamination, and Demolition
Anchor QEA provides strategic consulting services to industrial, utility, and commercial clients with obsolete, out-of-service, or underused buildings and structures (assets). Our Decommissioning, Decontamination, and Demolition (D3) Services Team works with clients to develop site-specific decommissioning processes that mitigate potential risks and provide best-value solutions through maximizing asset reuse and minimizing disposal costs.
We recognize that original building construction materials (such as asbestos), as well as historical facility operations, can impact decommissioning and demolition programs and associated costs. We use this knowledge to develop strategic sampling programs that assess the potential environmental impacts. Our D3 Services Team has exceptional experience in the field of mercury-impacted buildings and, more broadly, has worked on manufacturing and commercial buildings at locations throughout the United States, Central and South America, Canada, and Europe.
Our Data Solutions Group works closely with the D3 Services Team to develop data collection and mapping programs that are designed to meet individual project needs. Use of real-time monitoring and building materials analysis, integrated with mapping features, allows Anchor QEA to use an adaptive asset characterization approach. This approach allows Anchor QEA to reduce assessment costs by as much as 50% when compared to more traditional building material sampling and analysis programs.
Get in Touch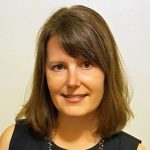 For inquiries about Anchor QEA's engineering capabilities, please contact:
Rebecca Desrosiers, PE, Principal Engineer
Engineering Practice Lead
rdesrosiers@anchorqea.com |