Anchor QEA has extensive experience evaluating and modeling the nearshore marine environment, developing and implementing shoreline and coastal protection projects, evaluating sea-level rise effect on coastal resiliency, designing and constructing coastal restoration projects, and providing support to waterfront and port development projects.
We use a practical, field evidence-based approach combined with sophisticated coastal models to predict the vulnerability of the coast and associated infrastructure to climate‐induced changes such as sea-level rise, frequent storms, and flooding events. Our natural, solutions-based approach has been lauded as environmentally friendly by both agencies and our clients.
Shoreline stabilization projects are highly interdisciplinary and often require a diverse team for project success. Anchor QEA has an experienced staff of experts in coastal geomorphology, coastal engineering and modeling, nearshore biology, landscape architecture, and planning. Our coastal engineering and modeling group consists of scientists and engineers, several with doctorate degrees in coastal processes and marine sediment transport.
Get in Touch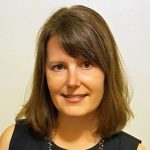 For inquiries about Anchor QEA's engineering capabilities, please contact:
Rebecca Gardner, PE, Principal Engineer
Engineering Practice Lead
rgardner@anchorqea.com |