Belaire Environmental Joins with Anchor QEA to Expand Coastal Resiliency Services
Texas-based Belaire Environmental, Inc. (BEI), has joined with environmental consulting firm Anchor QEA, LLC, to expand our high-quality coastal restoration services to clients nationwide. As a trusted partner in the region, BEI will continue to focus on upholding its four-decade legacy and reputation for service as it begins operations as Anchor QEA. Based on a strong foundation of shared values and goals, we are excited to continue both firms' traditions of excellent services, reliability, and dedication to solving our clients' environmental problems.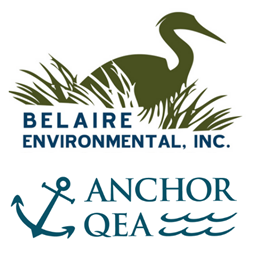 Established in 1983 by Charles and Sandy Belaire, BEI is an environmental services consulting firm located in the coastal community of Rockport, Texas, specializing in planning, permitting, and habitat restoration. BEI's capabilities and experience are centered in the areas of U.S. Army Corps of Engineers (USACE) permit support, wetland oyster reefs and seagrass habitat creation, endangered species evaluations, National Environmental Policy Act (NEPA) environmental assessments, and other environmental services. The BEI team has had key leadership roles in some of the largest and most complex restoration projects along the coast of Texas and Louisiana, building excellent working relationships with USACE and other resource agencies.
Anchor QEA is a nationally recognized environmental science and engineering consulting firm specializing in coastal engineering, environmental sciences, and planning and restoration. Anchor QEA's team of engineers and scientists offer innovative and cost-effective technical solutions to address unique waterfront and shoreline protection challenges. This acquisition enables Anchor QEA to expand its coastal engineering work into the Texas and Gulf Coast regions while providing clients across the nation access to BEI's expansive permitting and restoration capabilities.
Together, Anchor QEA and BEI can offer clients a wider range of services from initial planning, site investigation, and feasibility studies through engineering design, permitting, and habitat restoration and monitoring. Our teams eagerly look forward to working together to create lasting impacts for our communities, improve the environment, and continue to build enduring relationships.
"In recent years I have been approached by several large firms interested in merging with BEI. None of those firms felt like a good fit. Joining with Anchor QEA will provide our clients with the same personal touch with a broader range of in-house services and combine our strengths in planning, permitting, and habitat mitigation with Anchor QEA's strengths in dredging, coastal engineering, modeling, and waterfront design." - Charles Belaire
If you have any questions about this exciting news and what it may mean for you or your organization, please contact us at any time:
Get to Know Rockport
Learn more about Rockport, Texas, and the enduring beauty of Little Bay in this video (featuring Charles Belaire) by Clean Coast Texas.