Ways a Constructability Review Can Improve Your Waterfront Project
Before construction of a project even starts, how do you answer this deceptively simple question: Can the project be built as designed?  
Conducting a constructability review can help. Often used to infuse experience and construction knowledge early in the design development process, constructability reviews include analysis of the construction processes, from start to finish.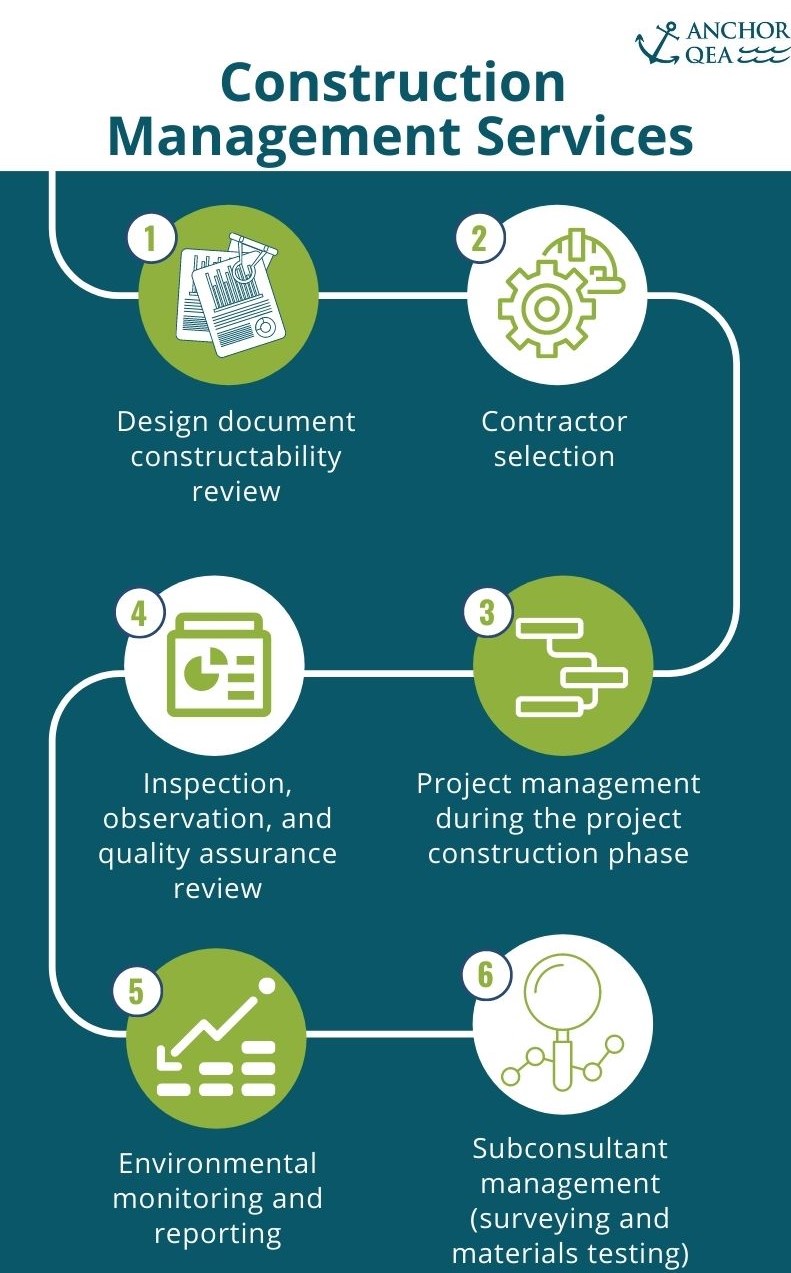 What are the benefits? Constructability review helps identify obstacles, potential flaws and problems before a project is even built, reducing errors, delays, cost overruns, and perhaps most important, potential safety issues. These reviews can also be used during the project build to ensure that the construction plan and execution align. 
How Constructability Review Can Help at Every Stage of Your Project
Regardless of the type of waterfront construction activities—marine structures, navigation dredging, sediment remediation, a waterfront park, or habitat restoration—it is crucial to reduce the potential for cost overruns and ensure constructible designs.

Constructability reviews can be used in a variety of ways throughout all stages of a project, as follows: 
Planning:

 Once the 

concep

t 

process is 

complete

 and the project moves into the planning stage, constructability review covers which materials will be necessary to complete the design, and which are the most cost effective while still achieving the design vision.

Design:

 

In

 the design stage, constructability review takes place with the contractor, owner, 

construction manager, 

consultants, and architects, assessing whether the construction design is realistic, can be executed within 

the project 

budget

 and 

schedule. Transparency between the owner and contractor is critical to developing a project design that fosters shared risk among the partners. 

Construction: 

Finally, 

a 

constructability review in the building stage evaluates whether design expectations 

can and are

 being met, 

contractor 

production and 

perform

ance

, and 

meeting the

 schedule.

 
In addition to creating cost savings and decreasing safety risks, constructability reviews can help contractors gain a competitive advantage when bidding on commercial and industrial projects. With many major ports on the Gulf Coast preferring to select contractors through an invitation to bid process, a constructability review included in a bidder's proposal can help create a "best value bid process." Best value means the most advantageous balance of price, quality, experience, service, performance, schedule, and other elements. So, when a contractor submits pricing data along with a written proposal on how they will complete the work, by including a constructability review in the process, they are signaling transparency and a willingness to keep the project on budget and on time. This creates a new avenue that can enhance and increase the value for the owner, engineer and contractor. 
How Constructability Review Benefitted the West Docks
The West Docks at the Port of Pascagoula, located along the Pascagoula River harbor channel in Mississippi, provides terminal berthing areas and warehouse storage space for commercial use, but regular dredging of the harbor channel and berths are required to maintain safe navigation depths. As a major exporter for processed foods throughout the Gulf Coast, the Port—and local businesses—were losing money each time a vessel is light loaded, increasing the unit cost for shipping, or when a shipment can't be shipped at all. One of the main causes of this is damage to the vessel propulsion or to the cooling systems.  
Anchor QEA was hired to provide a maintenance dredging design and support on-site activities during a routine maintenance dredging and removal and reinstallation of a cathodic -corrosion protection system along  the docks. Based on existing conditions along the adjacent dock structures, the channel depths and placement areas, our team decided that constructability reviews were needed for the dredging design. 

Thanks to the reviews, a thorough assessment of the contractor's potential methods for construction, dredged material placement, and reinstallation of the cathodic protection system were provided. All of these methods proposed and assessed in the review process were included in the final dredging design. Daily monitoring and reporting were provided to the Port with an up-to-date record of construction progress through project completion. 
Construction in large navigation channels requires close coordination among multiple parties, and the West Docks project was no exception. Anchor QEA also provided coordination and final review of all after-dredging and post-placement surveys and environmental reporting that were completed for this project. This routine process checked with reviews and permits allowed for innovative solutions to contain the dredged materials while minimizing costs. This benefited not only the port and community, because the docks foster a major export center for regional goods and services for revenue and funding, but the surrounding environment as well. This routine dredging from the port resulted in dredged materials that were beneficially used to restore or recreate eroding marshes along the Gulf Coast.  
Ultimately, constructability reviews can help waterfront projects be more efficient and cost-effective. By identifying and addressing obstacles to constructing a project before it is built (or even applying the process to a project in progress) then errors, delays, cost overruns, and safety issues can be anticipated and managed. The more information that is communicated between all the parties involved in the construction management process, the more time and cost can be saved before anyone ever sets foot on the construction site, benefitting both owners and contractors. 
Learn more about Anchor QEA construction management services and expertise on our Services Page.