Colorado Lagoon Restoration
The Colorado Lagoon Restoration is a multi-phased approach for improving water and sediment quality, restoring aquatic and shoreline habitats, and providing valuable mitigation credits for other city projects. The initial phase of restoration design and construction focused on sediment remediation and habitat restoration around the perimeter of the lagoon and was successfully completed in 2017.
The second major phase of the Colorado Lagoon Restoration includes excavation of an open channel to replace an existing buried culvert that connects the lagoon to Alamitos Bay. The open channel will support native wetland and subtidal habitats and provide a full tidal connection between the lagoon and bay. Construction is currently underway on the open channel phase of the project.
Anchor QEA led design and permitting for both phases of the project, in addition to providing bid and environmental compliance and construction management support.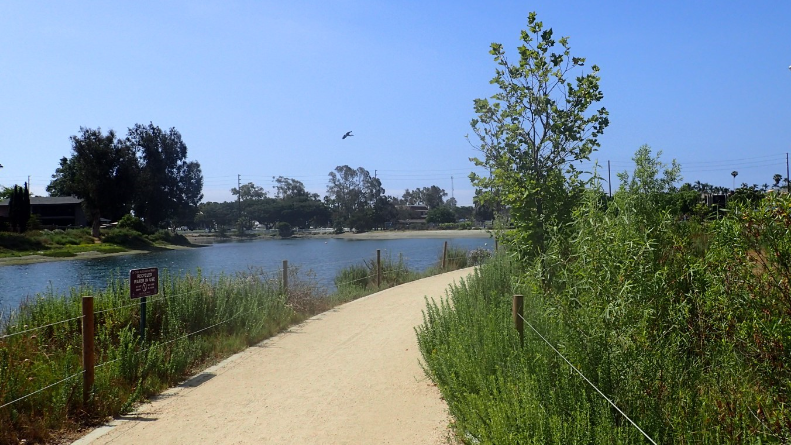 Challenges and Solutions
The Colorado Lagoon Restoration focused on the following:
Sediment remediation and native habitat restoration in and around the lagoon
Replacing non-native wetland and upland vegetation with native coastal species
Constructing a bioswale to manage runoff from an adjacent golf course
Removing a roadway, adding walking trails, and constructing and extending an existing pedestrian walkway
Excavating an open channel to replace a buried culvert
Constructing two bridges to span the open channel and relocating multiple utilities around the channel
Renovating the existing recreational park through turf installation, new irrigation, installation of outdoor exercise equipment, accessibility improvements, and replacement of a baseball field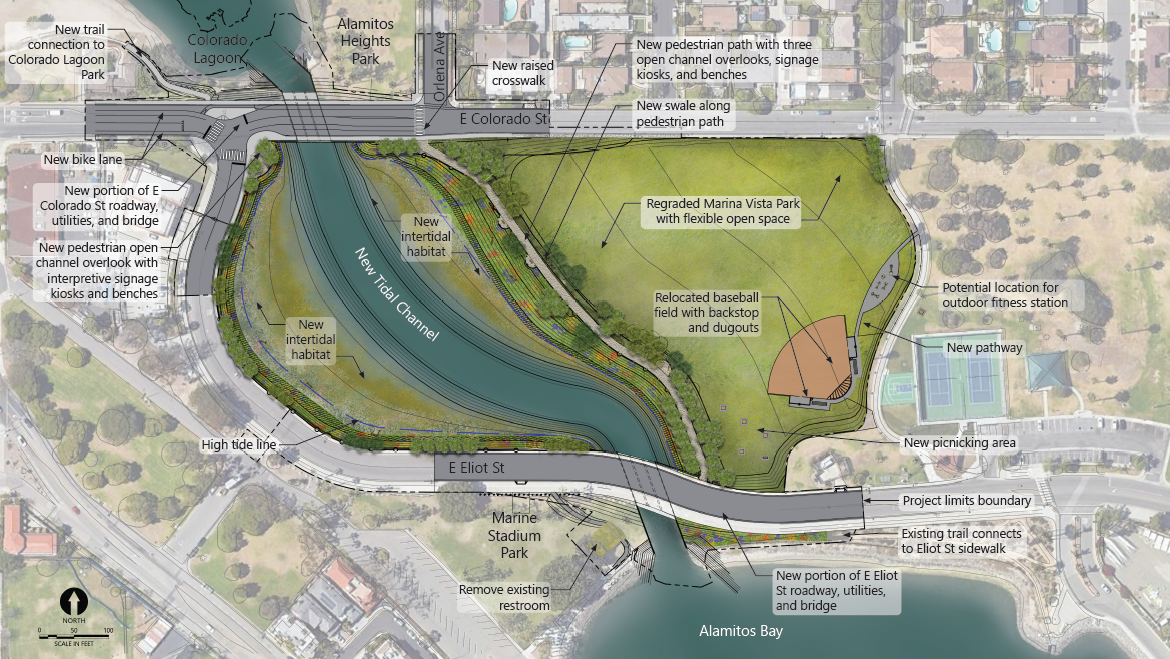 The open channel phase of the project includes the construction of two bridges originally proposed by others to be pile-supported structures. Anchor QEA developed an alternative approach to instead use pre-cast reinforced concrete boxes, resulting in several million dollars in savings and eliminating the community and environmental impacts from pile driving.
In addition, the lagoon dredging and grading process necessary for the restoration was specifically designed to eliminate the need to import or export fill material from the site, allowing the beneficial reuse of dredged material to transform deeper areas of the lagoon into shallow subtidal and intertidal areas that support eelgrass.
Project Impact
The Colorado Lagoon Restoration exemplifies the ability to develop real-time solutions by addressing constraints before they impact the project, as the lagoon's restoration evolved significantly during engineering design to address budgetary, technical, and regulatory constraints.
Despite the significant changes, the Anchor QEA team responded to each challenge with innovative, cost-effective solutions. This proactive approach involved working with agency staff to develop designs that met agency goals—without violating site constraints—while supporting community and stakeholder outreach expressing the project's value.
Strategic design and innovative solutions will save nearly $12 million and reduce the overall project schedule by more than 12 months.
The Colorado Lagoon Restoration is currently on schedule for completion by 2024.
Market Sector

Ports/Harbors

Location

City of Long Beach

Services