FreshWater Engineering Joins with Anchor QEA to Expand Water Resources Services
Wisconsin-based FreshWater Engineering has joined with environmental consulting firm Anchor QEA to expand their high-quality water resources engineering services to clients nationwide. As a part of the transition, FreshWater Engineering, LLC, will operate as Anchor QEA, LLC; the teams eagerly anticipate leveraging their collective strength to continue building enduring relationships, improving the environment, and creating lasting positive impacts for their clients and communities together.
Founded in 2014 by Laura Rozumalski, PE, FreshWater Engineering was a woman-owned business serving public and private sector clients and specializing in water resources engineering, waterway restoration, sustainable stormwater management, and coastal engineering. FreshWater engineers assess, design, and construct rivers, streams, and wetlands to restore essential functions to landscapes. With a passion for striking a balance between natural and man-made environments, the FreshWater team will continue working to solve clients' most difficult water-related problems.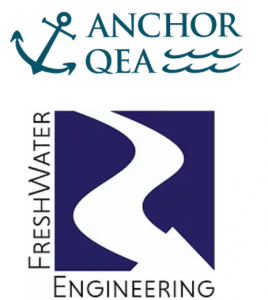 Headquartered in Seattle, Washington, Anchor QEA is a nationally recognized environmental and engineering consulting firm that specializes in aquatic, shoreline, and water resource projects, including coastal and flood resiliency. The merger with FreshWater Engineering will enable Anchor QEA to expand its water resources, coastal engineering, and shoreline restoration work into the Great Lakes and Midwest regions while providing clients access to FreshWater Engineering's unique capabilities in hydrodynamic modeling, coastal erosion assessments, fluvial geomorphology, and hydrographic surveying.
With a strong foundation of shared values, Anchor QEA and FreshWater Engineering look forward to delivering innovative results to help clients build resilient ecosystems, restore local habitats, and protect the land and water on which communities depend.
For more information about FreshWater Engineering joining Anchor QEA, please contact: