Meydenbauer Bay Park Turns 1
French for "beautiful view," Bellevue, Washington, presents scenic vistas (weather permitting) of the Olympic and Cascade mountains, and views of Lake Washington to the west and Lake Sammamish to the east. But you don't have to look far to see the beauty that Bellevue offers. Meydenbauer Bay Park delivers that right within city itself. Just a stone's throw from downtown Bellevue, the park had its grand opening 1 year ago today.
Long before its park days, the area was originally a small village, after Bellevue was settled in 1869. The bay became the landing site for passenger ferries that ran from Seattle from the 1890s until the early 1920s, and from 1919 to the late 1940s, the American Pacific Whaling Fleet (one of the last commercial whaling fleets in the country) hibernated there in the winter. After decades of downtime, Meydenbauer Beach Park was established in 1989, and plans for an in-depth waterfront concept took hold in the early 90s, when the City began purchasing properties to make room for the planned expansion.
According to the Park and Land Use Plan, the goal was to create a park that would be both a respite within the city and a connection between the city and the lake.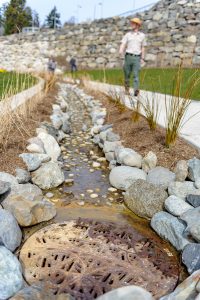 The first phase of park implementation kicked off in May 2017 and the total construction budget was $19 million ($14.5 paid by City of Bellevue and the rest paid by state grants). Anchor QEA led the design from 50% through final construction documentation, developing a design that provides water-focused recreational use and access, upland recreation facilities, and habitat restoration.
We worked closely with Salt Studio (architectural consultant), Perteet (surveyor and transportation engineer), Moffatt & Nichol (structural and coastal engineer), Cross Engineers (electrical engineer), Rainbow Consulting (mechanical engineer), and William Stewart Design (irrigation consultant). IMCO General Construction (general contractor) led construction from May 2017 to March 2019, during which we provided construction support services.
The 6.7-acre Meydenbauer Bay Park includes multiple new and expanded recreational opportunities: a 420‑foot-long pedestrian pier that arcs out into Lake Washington; a beach house with restrooms, changing areas, and showers; and a hand-carry boat launch. The design relocates and expands the swimming beach, and remodeled the historic whaling building, which dates back to 1930.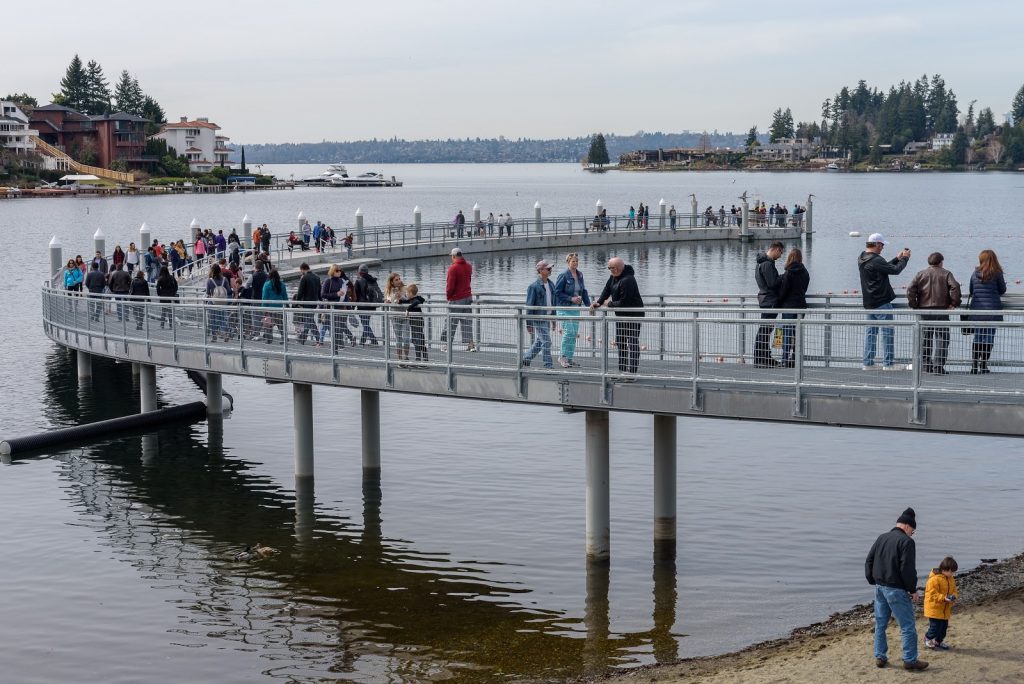 Additional improvements—ADA design, parking and vehicle access, road and sidewalk enhancements, drainage improvements—weave the park into the site's steep hillside. The park's complex grading design carved three main terraces into a 80-foot elevation change and created flat areas for a parking terrace, children's play area, open lawn areas, and swim beach, all connected by a sweeping, wide pedestrian promenade.
This past November, the American Society of Landscape Architects, Washington Chapter (WASLA) granted Anchor QEA an Award of Merit in the category of General Design – Public Ownership for our landscape architecture work. The park is recognized for reconnecting downtown Bellevue to its waterfront.
At the grand opening, Bellevue Mayor John Chelminiak solidified that by claiming, "We are now connecting what I think is the most beautiful downtown in the state of Washington to one of the most beautiful bays on the lake that bears the state of Washington's name."