Ensuring Quality with Drone Programs
Unmanned aerial systems (UAS), or drone programs, have become integral and widespread for consulting, engineering, and construction management companies across the globe. The drone industry has continued to grow rapidly with technological advances and broader applications over the past decade.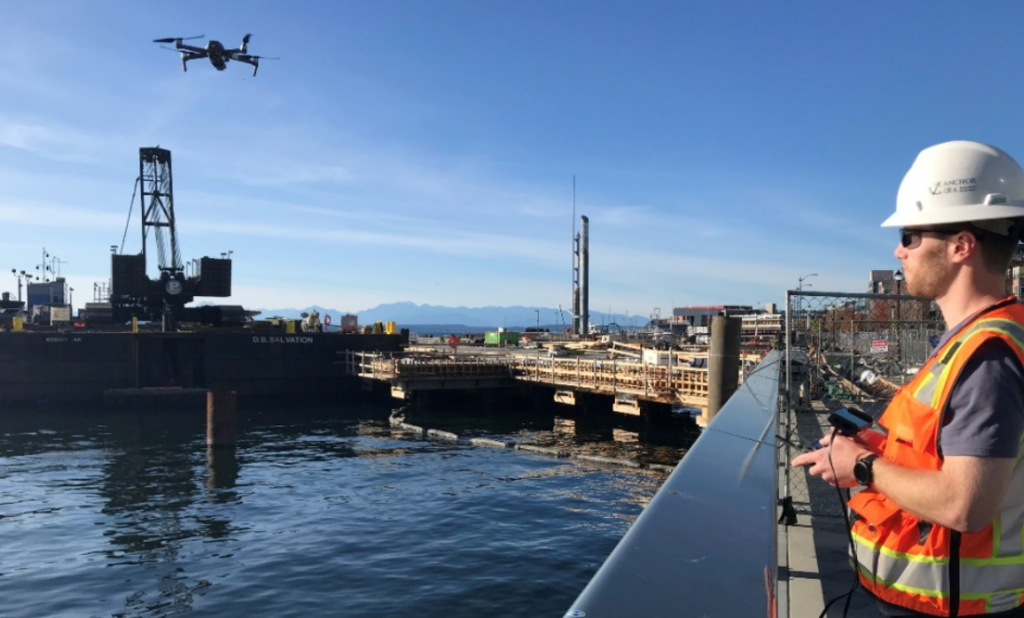 Many drone programs, including Anchor QEA's, were developed shortly after the issuance of Federal Aviation Administration Part 107 regulations in 2016, which provided rules for operating drones commercially in the US.
Offering qualitative and quantitative benefits during the planning, design, and construction project phases, drone technology can add value to projects in multiple ways. From aerial mapping and photography to volume estimating and habitat restoration monitoring, drone use can allow tasks such as site inspections and surveys to be completed safely with fewer labor hours, reduced cost, and increased efficiency.
The Power of Aerial Mapping and Photography
Drone programs offer countless innovative applications for the architecture, engineering, and construction (AEC) industry, providing a bird's eye view of resources such as equipment and materials as well as providing live feedback on actions taking place on site. As owners and construction managers are increasingly looking to monitor site activities, drones and mapping software are more commonly being used for aerial mapping.
Drone mapping software can be used to program flights and capture photos along specified track lines to generate to-scale maps, 3D models, and even elevations models. Such programmed flights allow the pilot to generate track lines before launching the drone, ensuring complete coverage across the entire project site without any manual adjustment.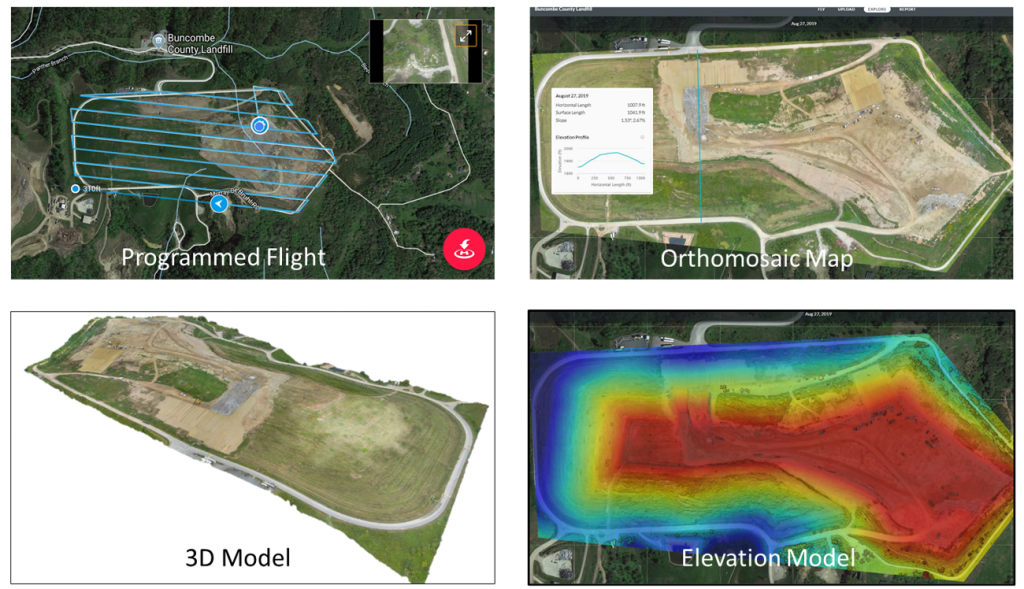 The adoption of innovative technologies is necessary for AEC industry development. Drone programs offer countless applications that can help streamline and improve work on construction and engineering project sites.
During the programmed flights, georeferenced and to-scale maps, or orthomosaic maps, can be generated from the data collected. 3D models—useful for visualizing site obstructions or depressions, monitoring site progress, surveying, measuring, and tracking the performance of quality control—can also be generated with drone imagery. Maps can even include elevation data, which can be extracted as contour lines or color-banded surfaces. For these elevation models, ground control points can be set for improved accuracy.
Imagery and video from these drone operations are especially valuable for pre-construction surveys, construction progress tracking, and post-construction monitoring. Maps can then be loaded into GIS and CAD software for analysis and reporting, including cross section evaluations, earthwork volume estimates, and design drawing overlays. By implementing this technology into each phase of a project, teams can increase work efficiency, enhance safety standards, reduce costs, and increase overall work quality.
Generating Impact and Efficiency with Drone Programs: Case Studies
Drone programs and technologies can have tremendous benefits on a variety of AEC projects, applicable to estimation of volumes at construction sites, turbidity monitoring, wetland and vegetation surveys, habitat restoration monitoring, and even public outreach.
Visualizing and Estimating at the Elliott Bay Seawall Habitat Beach
The City of Seattle's Elliott Bay Seawall faced substantial deterioration and was in danger of earthquake damage before its rebuild was completed in 2017. As a part of the project, Anchor QEA was a part of a team that managed the construction of a habitat beach against the seawall. The habitat beach was constructed to mimic naturally occurring sand and gravel beaches that formerly existed in Elliott Bay. With drone maps, our team was able to estimate volumes and visualize measurements for material stockpiles, allowing the construction management quality assurance team to track imported material for review of contractor pay applications. Additionally, ongoing drone photography and mapping for post-construction monitoring has shown improved Elliott Bay ecosystem functions and processes.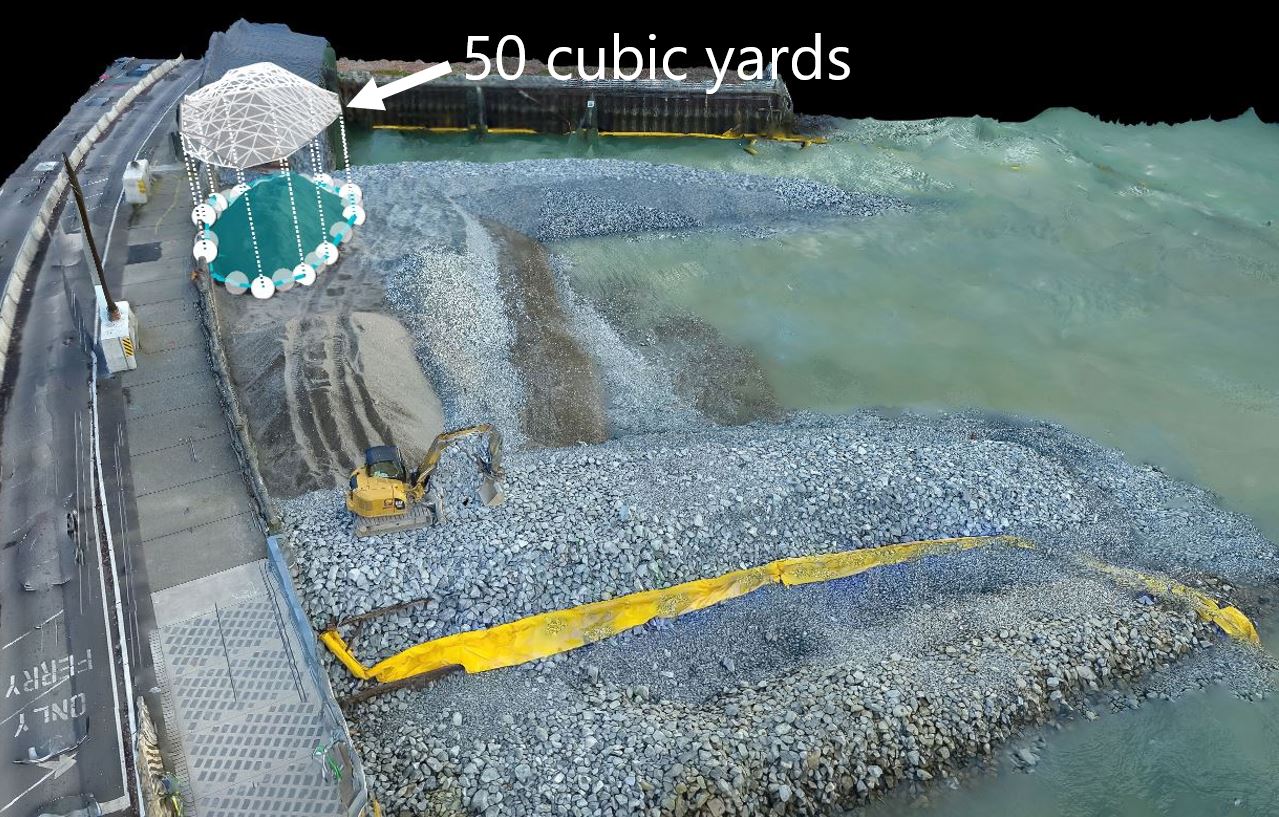 Managing Construction with Aerial Mapping for the Chinook Wind Mitigation Project
For King County's Chinook Wind Mitigation Project, a new estuarine wetland, aquatic, and riparian habitat project in Tukwila near Seattle, Anchor QEA was tasked to provide construction management and field inspection services during pile removal, earthwork, habitat log placement, and landscaping. With our aerial mapping software, we worked with King County surveyors to generate drone maps with ground control points and overlay design drawing linework. This technology helped the team verify the construction accuracy and identify design improvements.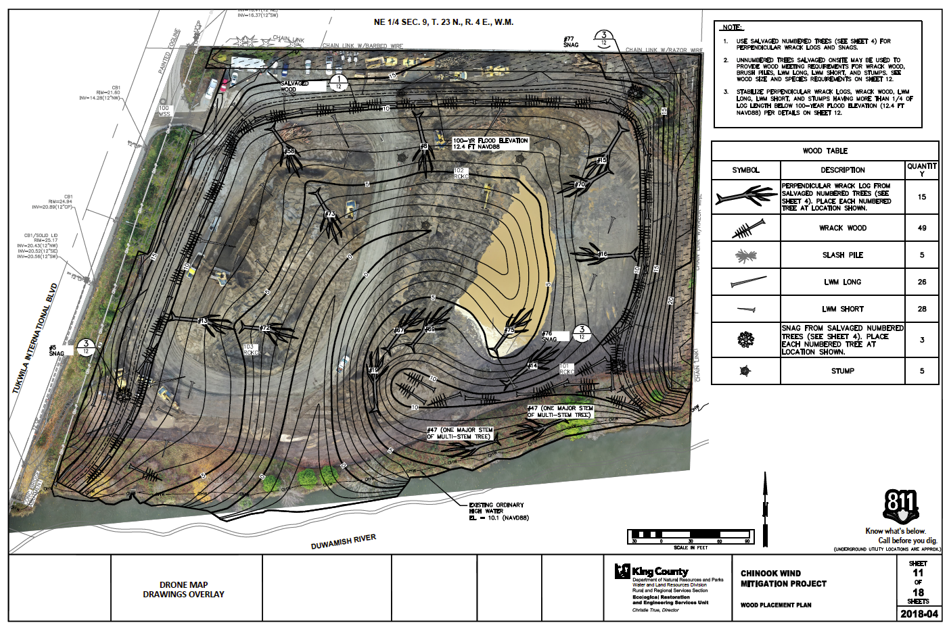 Engage Informed Decision Making at the Lower Russell Levee Setback Project
As a part of King County's Lower Russell Levee Setback project in Washington, Anchor QEA's team was hired to provide construction management services, including field inspection; cost, quality, and document control; materials testing; and archaeological monitoring. The 1.4-mile-long levee and park project will replace an old levee and improve flood protection for the community while adding habitat for fish and wildlife. Through weekly aerial photography and regular mapping, we were able to share project updates with remote stakeholders, better visualize the project components and construction approaches, and communicate progress to everyone involved in the project.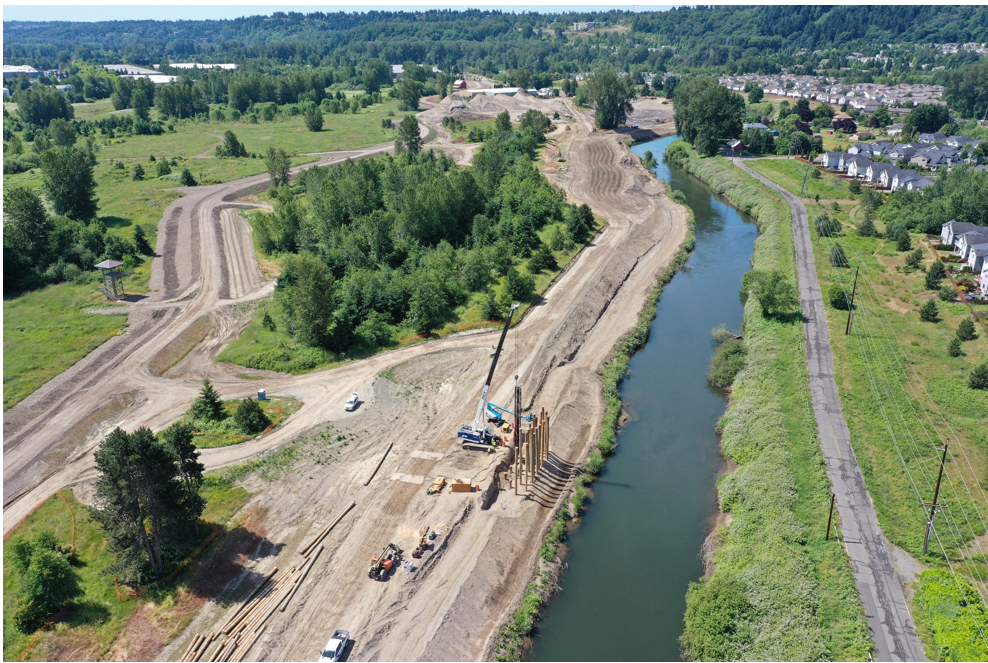 Create On-Demand Imaging to Effectively Monitor Turbidity at Lake Linden Area A TCRA
Anchor QEA completed the design and performed construction management for Honeywell at Lake Linden Area A Time Critical Removal Action (TCRA) in Michigan, a part of a larger site in the Great Lakes. Work included sediment dredging, placement of clean backfill, and upland restoration. To address potential health and ecological risks attributable to sediment disturbance during construction, Anchor QEA's drone technology was used in conjunction with turbidity measurements to consistently monitor and document water quality, allowing us to track turbidity curtain effectiveness throughout dredging during the project. The use of drone imagery allowed us to create fast, reproducible, and on-demand documentation of project conditions to effectively communicate to all parties involved.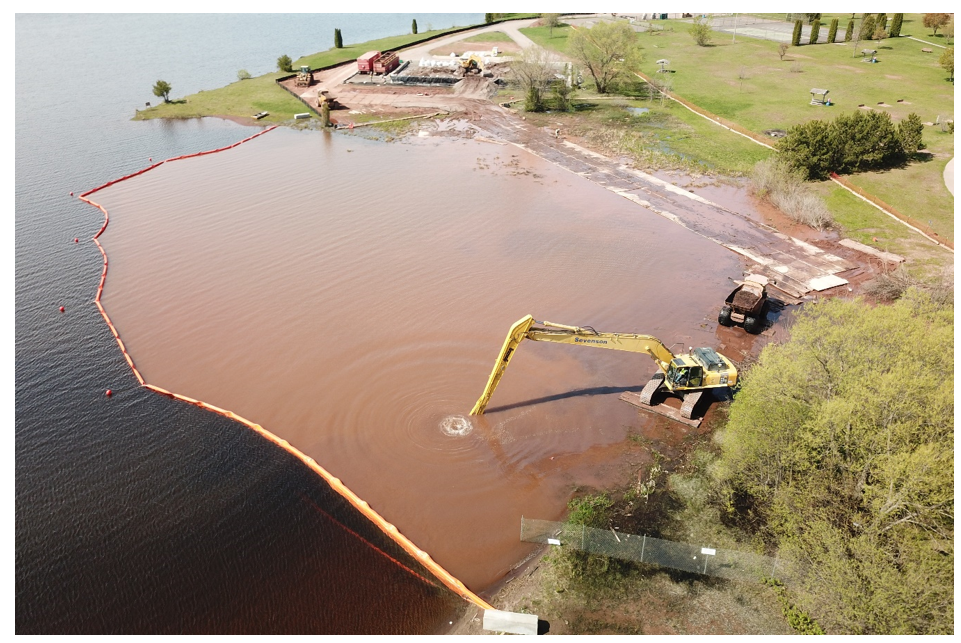 Updates from Us to You at Pier 62
To improve infrastructure and the surrounding habitat on the downtown Seattle waterfront, Anchor QEA worked with a construction management team for the City of Seattle to replace the old timber Pier 62 with a steel and concrete pier, providing a new and improved public park.
Anchor QEA's drone photography was not only used for structure and habitat restoration monitoring, but for public outreach efforts as well. The City occasionally included drone photography in the weekly emails to public stakeholders and other interested parties who opted in for updates of the project's progress.
Ultimately, unmanned aerial systems can offer significant benefits through every project stage. With aerial mapping, photography, volume estimating, and habitat restoration monitoring, project teams can complete tasks safely with fewer labor hours, reduced cost, and increased efficiency.